Remember when we enjoyed music without caring about the Billboard charts? There is no need to look back because that can still be your reality. However, it's important to understand this key point: Hit songs are what you make them.
I developed my early taste in music during the 1990s. First influenced by my family, I eagerly explored R&B, soca, dancehall, hip-hop and disco with an open mind. Then, as I grew older, I discovered my own preferences, and formulated my own personalised playlists.
Everything changed when I got online.
I heard the Billboard charts mentioned during episodes of MTV's Total Request Live but I never understood the significance. Yet, when I joined fan forums in the early 2000s, a strange concept was explained to me: "Your fave is a flop."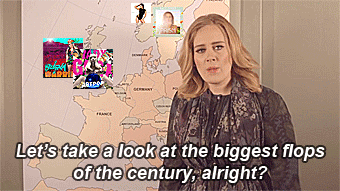 Pop music super fans argued for hours about the information listed on the Billboard Hot 100 and Billboard 200 charts. They dissected every detail, and lauded the accomplishments of their favourite artists over others. Moreover, they used the numbers as tools to highlight the failings of performers across genres.
Instantly, my perspective on the music I love changed. I was no longer thrilled by my own opinions of songs or artists. Rather, I judged everything by chart performance and adopted the word 'flop' into my vocabulary.
When a song or artist I liked failed to crack the top 10 of the Billboard charts, I felt as though I had failed. Also, I internalised that "failure" as a broader rejection of me; as if I wasn't part of the winning team and my tastes were unacceptable.
Of course, this situation worsened in 2008 when electronic dance music and trap replaced R&B and harder-edged hip hop on radio. Instead of retreating to my playlists, however, I fought to convert people to my way of thinking.
The battle was long and only ended when I learned to let go.
A return to innocence
I stopped fighting others' perspectives by cultivating self-acceptance. Indeed, instead of looking to the charts as indicators of what I should enjoy, I simply learned to focus on what I liked. As Lisa Nichols says, there is no need to seek external validation when we understand that our self-love is paramount.
Additionally, I learned to express gratitude for art in all forms. Music stirs our emotions and helps to shape our thoughts. Anything that powerful, regardless of where it sits on some external ranking, is something to behold.
Watch me explain these ideas and so much more on this week's episode of Trini Trent TV. Also, take this quote with you.
"Sunny Saturdays. Meals with family. Blowing bubbles. Hot coffee on a camping trip. Generosity. Bear hugs. Getting involved. Porch swings. Rainbows. Taking the scenic route. Lady bugs. A good night's sleep. Sharing a laugh. A sense of accomplishment. A sudden fit of the giggles. Making a difference. The light things in life aren't so little." – Dan Zadra in 7: How Many Days of the Week Can be Extraordinary