5. Do your research. 
As a child, I had little understanding of what it meant to be gay. In fact, before I learned otherwise from my own experiences and the internet, I was taught that gay men were all paedophiles who eventually died of AIDS.
This is 2017 and there is no excuse for such ignorance. You can learn about any topic through research online and by asking the right people. Still, don't let stereotypes in the media dictate your understanding of entire communities.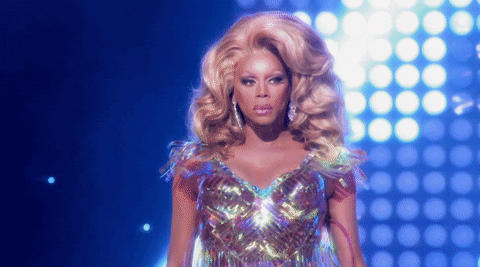 RuPaul, for instance, is a trailblazer for the LGBTQ community but don't assume that every gay man wants to wear a wig and pair of pumps. Gay men have different shapes, sizes, preferences and expressions.
One useful way of learning more about their lives is to follow the issues that affect them. Read articles and watch documentaries about their struggles for equality, healthcare and representation. Furthermore, study their histories and see how they helped shape your community. You might be surprised by what you discover.
6. Keep it between you.
Even if your friend tells you that he has told other people about his sexuality, keep the information to yourself. You might be excited to share the news or bring it up with someone else so you can learn about how to move forward but be careful.
The increased visibility of LGBTQ people in media has not resulted in less violence toward the community. In fact, there has been a rise in the number of killings in the United States since 2007, especially among people of colour.
Moreover, same-sex acts between consenting adults is still outright illegal in certain countries. In Trinidad and Tobago, for example, the "offense of buggery" is punishable with up to 25 years in prison.
Telling people about your friend's sexuality can negatively affect his life. If you need advice from someone regarding how to handle the news, at least disguise his identity to keep him safe.
7. Take the time you need to adjust. 
Although it is important to be there for your friend, you may need time to accept what he told you. Indeed, this is someone who you've probably known for a long time and him coming out may be a complete shock.
Take as long as you need to adjust but don't abandon your friend in the process. Instead, communicate how you feel to him and let him know you're struggling. You can learn to value each other even more during this time as he helps you understand him better and you show him you care enough to not give up on your friendship.
8. See yourself in his position.
One way to come to terms with your gay friend is to see the world through his eyes. Imagine the fear, confusion and anxiety he must feel as he navigates the same world you live in without any such worry. Also, think of the strength it takes for him to live his life openly, and how much he values you as friend by choosing to tell you.
A recent study of lesbian, gay and bisexual youth in the United States' Mid-South indicates they are 29 times more likely to commit suicide after losing friends when they come out. Hence, if you're considering ending the friendship, take a moment to think about what it really means to you both.
This quote captures the message so well.
"Each one of us has lived through some devastation, some loneliness, some weather superstorm or spiritual superstorm. When we look at each other we must say, 'I understand. I understand how you feel because I have been there myself.' We must support each other and empathize with each other because each of us is more alike than we are unalike." – Maya Angelou